We have a full range of Castrol and GEM lubricants and greases in stock.
We cater mainly for the agriculture, industrial and commercial sectors with 20 litre drums and 208 litre barrels available.
Lubricants and greases can be collected at our Wexford depot or delivered to you.
For any further information please phone 053 91 43978 or email us at [email protected]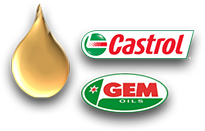 .